Fauquier County Virginia Home Improvement Builder: Sunrooms, Screened Porches, Custom Decks, Patios, Pergolas and more.
If you are looking to add valuable space to your home and you are considering a sunroom, you will want to make sure you choose the right style. Sundecks, Inc. can build a luxury sunroom that helps extend the space in your home.
Popular Types of Sunrooms
There are four main types of sunrooms; these sunrooms vary in style, however they all allow plenty of light into a space.
The Four Main Types of Sunrooms
Conservatory - A conservatories roof segments are always separated; this is what gives that feel of old world charm to the space.
Gable - The roof of a gable sunroom includes a main center beam that is centered in the room. The roof panels slope, which allows water and other debris to easily run off the roof.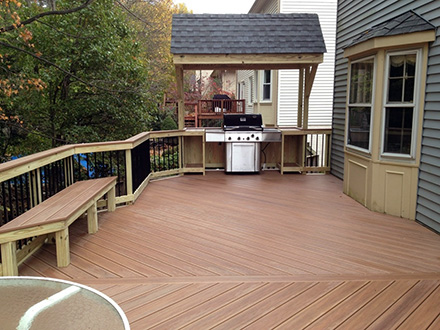 Shed or Studio - A single pitched or sloped roof is the signature style of a shed or studio sunroom. Excellent drainage is given thanks to the roof slope. A shed or studio sunroom works with a home that currently has a low roof line.
Solarium - If you are looking for a completely glassed in space then a solarium sunroom is likely your answer. The walls and ceiling of a solarium sunroom are made up of glass. The walls can be straight or curved and the room can have a single slope or gabled roof.
Enjoy a retreat where you can enjoy the outdoors year-round without worrying about the weather or pesky insects spoiling your time. Quality sunrooms from Sundecks, Inc. is an attractive through for almost every homeowner. It is sounds enticing to you, give us a call today. We can create an energy efficient solution that extends your living space and increases your home value.
Both glass sunrooms and screened porches allow you to sit outside, even when it's raining, If you prefer year-round use and like the idea of being able to relax in your sunroom even in the winter, glass custom sunrooms are more fitting. Screened custom sunrooms are great in the summer and spring, especially if you like to sit and watch thunderstorms or read a book on a warm Sunday afternoon without having to fight pesky mosquitoes and bugs!
CLICK HERE to schedule your free, no obligation consultation.
Serving Fauquier County Home Owners - Northern Virginia
---