Sundecks, Inc. is your quality Northern Virginia deck building contractor. We have been designing and building home improvement projects in the VA and MD area since 1979. We do something very unique in the industry - we eliminate the worries, headaches, and heartaches that are all too common when dealing with home improvement contractors. We know this is an investment in your home and one that can cause living disruption. You want to ensure you hire an experienced quality builder for any project including porches and patios.
Don't take a chance - before you hire any builder for your home improvement project, make sure you ask the critical questions, and make sure you work with a local building contractor. Call Sundecks, Inc. for a free estimate.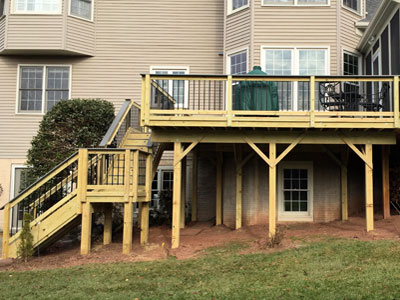 What Our Clients Are Saying
"Ricardo & Roberto were excellent workers on our project. I have never seen such hard workers and commitment to quality work. They were also courteous and friendly. They helped us decide on a few ideas to make the project personalized for us and tried to fit that in the plans so it would look good and work well too!! Thank you! We love our deck!" - The Nash's
---
Here are some frequently asked questions we typically receive:
FAQs
Do you give free estimates?
The estimate is free to you and we provide it as a service in the hope that you will choose us to be your contractor.
A lot of companies offer discounts, do you?
Not really. We see discounts and coupons as gimmicks. We do vary our prices from time to time with the season and discount promotions we receive from our suppliers. Also with the price fluctuations on the materials.
I think I might feel strange asking for references. Heck, I'm not really sure I would call them anyway. I can't see myself calling strangers. Is that ok?
It may be ok if the contractor is a strong referral from someone you trust if not it's time to suck it up and make some calls. And I have good news for you, people actually like talking about their project and experience. It's not like you're a telemarketer and we only put people on our reference list who have given us permission to do so.
Who is responsible for the permit?
Virtually every project is required to be done with a permit. It is a normal part of any contractor's process to obtain a permit for the work to be performed. If a contractor wants you to get the permit it is most often because he can't and should be a major red flag. One must be licensed to be able to pull a permit to perform work.
Will the price change once the job starts?
Rarely does the price change. The only time there are cost additions to a project is if you add to or change the work to be done, if we encounter a problem when digging the footings, or other hidden conditions.
Won't I get a better deal from an individual as opposed to a company?
With Sundecks, you are hiring a company, a team; and rarely does the individual have as much experience as our team. We have successfully completed over 5,000 projects and more than half of what we do are referrals or repeat customers.
Should I feel safe if a company says they are licensed, bonded and Insured?
Working with a licensed contractor is a must. Make sure he/she gets the permit, that's one way to know they are licensed. Also, ask to see a copy of their liability insurance coverage. You can also ask that a copy be mailed to you directly from the insuring agency.
Do you offer financing?
We have in the past but we found over time that most of our customers have either made their own arrangements or are able to get better rates from their own lending sources.
Why do you want a deposit when you won't be starting for a month?
We take a 25% deposit unless it is a large project. We do this because we want you to be as committed as we are to the project. Even though you may not see us for several weeks, we are working on your job. All your data is inputted into our system, structural plans are drawn, the permit is being obtained, materials figured, etc.
How can I ensure that I am going to get a good job at a fair price?
That is up to you. It starts with you doing your homework. Check out the company, check references, check the Better Business Bureau. We've been in business over 35 years and care very deeply about your project and our reputation.
What should I expect from a contractor doing work at my house?
Respect for your property and you as a client
Jobsite is kept clean
Communication lines always open
Quality work
Finish details completed promptly
Do your people show up every day? I've heard horror stories.
Usually! It is in our best interest, once we start, to complete your project in a timely manner. When a job site drags on everyone loses. We do not jump our carpenters around from job to job chasing draw payments like some do. But keep in mind that your project is a process that relies on people and weather. We will be on your project every day we can until it is complete.
I've heard a lot of talk about composite and vinyl materials. What are the pro's and con's?
Pros: Composite and vinyl materials require low maintenance. Even pressure treated lumber deteriorates cosmetically with cracking, splintering and warping, which requires constant maintenance to minimize those affects.
Cons: Does not look like wood and there is a higher up front cost. Those costs would be recouped in about 5 years based on the savings from maintenance.
I don't like the look of the vinyl railing. Why would someone want that?
Vinyl railings provide a clean, permanent finish and they don't deteriorate. They cost the same and sometimes less than composite railings while providing a nice contrast to the decking materials.
Is there such a thing as a no maintenance deck or screened porch?
Not really but maintenance can be minimal. Even with composite materials and vinyl wrapping you still have to wash it like your car or the siding on your house. Birds may fly into the screening.
Are you a member of NARI?
Sundecks, Inc. is indeed a member in good standing of NARI (National Association of the Remodeling Industry.)